Description
Introduce the Kano Model to your colleagues, customers, or clients.
Save time making slides, we have done it for you!  This PowerPoint file is perfect for presenting the the essence and basics of the customer satisfaction model to your colleagues or in any lecture.  The Kano PowerPoint file includes the definitions for the 5 customer requirement classifications (Basic – Must Be's, Performance – One Dimensional, Excitement – Attractive,  Indifferent and Reverse.  It also has a very effective animated Kano Model build slide of the actual model that can be easily controlled with mouse clicks to engage your audience for effective learning.
It briefly introduces the Kano Survey, has a product development flowchart on how Kano's philosophies fit into a product development process and lists over a dozen tools that get at Kano's Excitement (Attractive) requirements.  Also included is a 1 page summary a Requirements Planning Process which includes Kano's Model and several other best practice techniques used in leading organizations.  When you download it and have questions, email them to info@kanomodel.com, we would love to hear from you!
The downloadable PPT file is compatible with PowerPoint 97 – 2013.
Click video below for short description.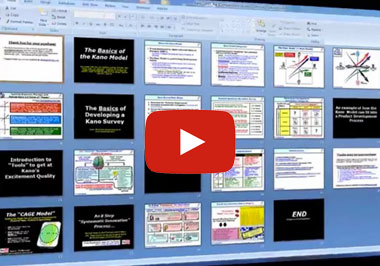 File downloaded instantly upon successful payment.